-10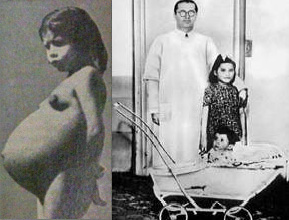 Whoa. This ones for real. Not only does Lina give birth at the age of five years, seven months and 21 days, but she does so on Mother's Day (via cesarean I'll give you, but pretty insane nonetheless)!
1939: Lina Medina becomes the youngest confirmed mother in recorded medical history, delivering a son at the age of 5.

The Peruvian child delivered a 5-pound, 8-ounce boy via cesarean section; her small pelvis made it impossible for the baby to pass through the birth canal. In a detailed report of the case, Dr. Edmundo Escomel described the girl's early sexual maturity. Lina had her first menstrual cycle when she was only eight months old; her breasts were almost completely developed by the time she was 4.

Lina's condition, known as precocious puberty, was an extreme case, so much so that the story was dismissed as a hoax by many. But doctors X-rayed the fetus' skeleton in utero and provided a picture of Lina, taken late in her pregnancy. The photograph, shot in profile, proves not only the pregnancy but shows the extent of her sexual development.
---
Comments Temporarily Disabled :-(