-19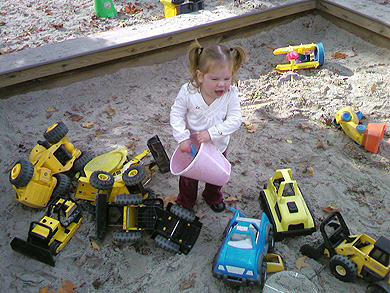 Now entering my sophomore season as a parent, I'm really beginning to appreciate the rewards of being a one (yes, there is life after children). Today, Fiona and I spent a couple hours at the park, and I have to say, it was the best two hours of my day. I think I had just as much fun chasing her around as she did going down the two story winding slide. This got me thinking (I'll keep it brief).
A few months into Theresa's pregnancy, we started a journal for Fiona. The idea was simple: begin documenting our new lives together so that someday, she could have something to remind her of where she came from. I started out strong, but I have to confess, Theresa has definitely picked up the slack since her birth. If your following along, that was two years ago...
Sooooo, I decided to create a tag "
For Fiona
" because I think it's my best shot at contributing to the journal at a somewhat respectable level. Let's face it, I probably spend more time on the computer than I should and the internet gives me a unique opportunity to share these moments using a medium that has become my profession.
Fiona, thanks for making me smile today. This one's for you...
---
Comments Temporarily Disabled :-(