-14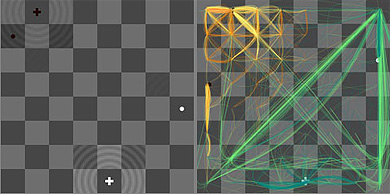 The best thing about this pimped out
chess game
is that you actually have shot at winning.
The chess playing engine is designed to be at the same level as the average viewer of the piece. If you're a tournament chess player, you would clobber most casual players--and you'll clobber Thinking Machine 4 too. If you barely remember the rules of the game, the artwork may clobber you instead. The chess engine we built is simple and uses only basic algorithms from the 50s (alpha-beta pruning and quiescence search). The program's unconventional initial moves may raise eyebrows among experts: we did not give it an "opening book" of standard lines since we wanted it to think through every position.

The goal of the piece is not to make an expert chess playing program but to lay bare the complex thinking that underlies all strategic thought.
---
Comments Temporarily Disabled :-(